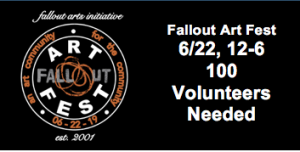 SAVE THE DATE – Art Fest and Fiesta Latino
Hola,
Saturday the 22nd of June is around the corner. Get this on your calendar because you will not want to miss… Fallout Art Fest and Fiesta Latino
Community partner La Vina Iglesia from Saint Paul and Burnsville will be Partnering with us to put on a Latino flavored block party. Yes, we will have tacos, hot dogs, brats and hamburgers! As well as a kid's carnival, free food, live art, and music, lots of multicultural music.
A highlight of the block party will be a fresh produce distribution that will give away over 4,000 pounds of veggies and fruits.
Of course, we also have to talk about the lineup of performers, this is who is currently scheduled: La Vina Band, Fire Starters Band, Chris Sharpy, Mariachi Band, Van Nixon, Honor Roll Droupouts
This is going to be awesome, so make sure you are planning to visit and enjoy!
We also need volunteers, so if you are interested contact us at: sam [at] sourcemn [dot] org">sam [at] sourcemn [dot] org