Azariah On Mission: – Switzerland & the Nations
YWAM DTS – Fall '23 to Spring '24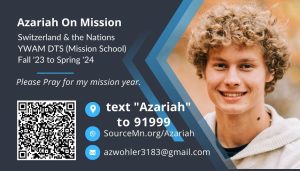 Donate
Pledge
Updates - Prayer List
I am excited to share with you what I have discerned God calling me to this next year, and to ask for your prayers and support. I will be taking a Gap year and doing a mission school in Europe, outreach in a foreign country and then serving in Ukraine from Fall '23 to Spring '24. The DTS (Discipleship Training School) is based in Lausanne Switzerland, Youth With A Mission (YWAM). DTS includes a lecture/training phase and then a team outreach phase to another country.

This last year has been an incredible wrapping up of my high school career. I am incredibly grateful for all that my school Trinity at River Ridge has built into me. A classical education, a small Christian school with great friends, personal input from teachers, sports (captain of the soccer team, playing basketball, and running in the Minnesota state track meet), theater performances, and band have all been things I'm grateful for.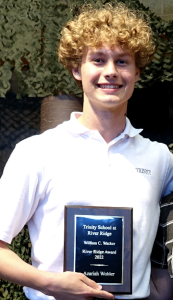 I love academics, being a student, learning, growing and interacting. I was humbled and honored graduating with honors, a 4.3 GPA, and receiving the Trinity Walker Award (a leadership and character award given to one boy and one girl by faculty). I have enjoyed my college search these last two years and I have applied and been accepted to several schools that are willing to defer my enrollment until the fall of 2024. Through the college process, I have discerned that God wants me to take a gap year and focus on continuing to grow in my faith, learning more about God, and growing His kingdom by loving others.
I have grown up a P-M-K (Pastor-Missionary Kid) as my parents have led Source Ministries in south Minneapolis. Serving those in need, the homeless, addicts and refugees along with living in the city has been a wonderful experience. Youth leadership intensives, church conferences, national homeless youth outreaches and mission trips to Louisiana have all been ways I have gotten to grow closer and learn more about God through building His kingdom. Last summer I helped host 55 Ukrainian refugees for a 3 week tour that included a Soccer team of 23 boys my age. This was an incredibly impacting experience on seeing another culture up close, and how God can use me to serve others and encourage faith in them. Family of Christ Ukraine, the Ukrainian refugee soccer team, returned for a 2023 tour in MN. I'm hoping, but not sure yet, I will be able to visit them after my DTS and extend my time away by serving in Ukraine.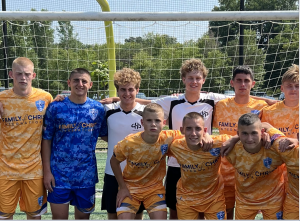 I helped host a Ukraine Refugee Youth MN Tour in 2022 and made life long friends with teen age boys. They returned in summer of 2023 and I hope, but not sure, I will be able to serve Family of Christ in Ukraine after my DTS.
The following verse from Philippians 1:20-21 sums up what I am looking forward to from this opportunity: "I eagerly expect and hope that I will in no way be ashamed, but will have sufficient courage so that now as always Christ will be exalted in my body, whether by life or by death. For to me, to live is Christ and to die is gain."
I am looking forward to obeying God and going where he is calling me. I am looking forward to strengthening my relationship with Him, and growing as a man of God. Lastly, I am looking forward to seeking God first now, and for the rest of my life.
YWAM – Switzerland – DTS (Discipleship Training School)
YWAM's motto is "to know God and make him known". They have been around for more than 50 years and have hundreds of bases all over the world. They are engaged in mercy ministries (humanitarian aid), sharing the good news of Jesus to many cultures, discipleship, and church planting. YWAM Lausanne, is a mission base with local outreaches, and runs several DTS's each year. They have had students from North Korea, have been involved with Ukraine Refugees and sending outreach teams across the world. The DTS is a 6 month school (I will begin in September) that includes a 3 month teaching phase in Lausanne (this includes being taught by experienced pastors and missionaries from around the world, and participating with local outreaches) and the 2nd phase being a 3 month outreach phase of going to another country to do mission.
Prayers and Finances
DTS Students have to fund all the costs, living expenses and travel expenses. The total cost will be $15,000 for my whole time away. I have saved up (and am saving this summer) to cover approximately 1/3 of the cost. I will need individuals to partner with me financially to be able to do this mission. I would like to ask you to prayerfully consider being part of my financial support team by making a one time donation, and/or also consider a monthly or year end pledge. Pledges are significant as they can assist me in making this next year a reality.
I am incredibly excited for this opportunity but to be honest it's also a bit scary. I truly desire your prayers more than anything. I will be sending out monthly updates along with photos periodically as well.
So many of you have been such a big part of who I have become today. I am so grateful, thank you.
Sincerely,
Azariah Wohler
Details: Update-Prayer Letter List and Donations / Pledges
Note Pledges: Pledges for monthly giving, 2023 year-end (by 12/31/23), or by 2/28/24 are incredibly helpful. If you are able make a pledge it is very much appreciated.
You can Donate, Pledge and Sign up for Update-Prayer Letter List by selecting the buttons below
Checks: Include a note in the envelope "Azariah on Mission" or "Azariah Wohler"

Mail to: Source MN, PO 8212, Mpls, MN 55408

Note: I also have an account directly at YWAM Lausanne and donations can be given online through Source Mn or YWAM
Donate
Pledge
Updates - Prayer List

YWAM Donate Link