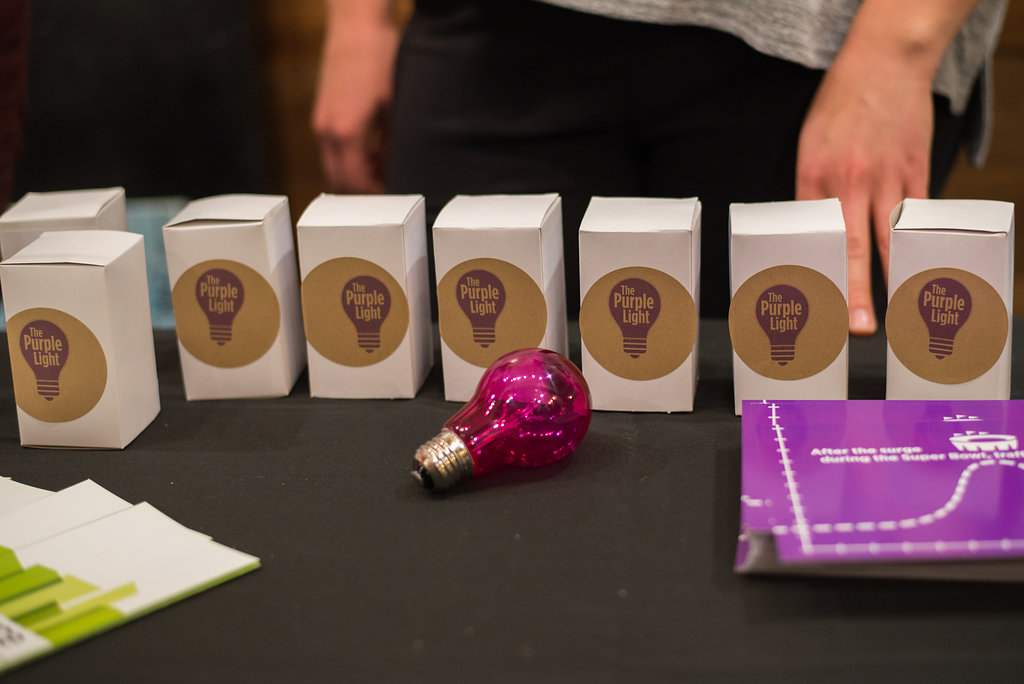 Super Bowl Week Outreach and Shelter Report
Purple Light Project
Increasing outreach and recovery resources Beyond the Super Bowl!
52 weeks a year, becomes reality
Purple Light Financial Goal Reached!!
Thank You
$300,000 Goal Reached
Our increased efforts during the Super Bowl can now continue 52 weeks a year.
Thank you to donors, volunteers and congregations for giving victims opportunity and empowerment – During the Super Bowl & Beyond!
+ Emergency Shelter & Drop-In: over 200 volunteers made this a reality
+ Outreach: victims contacted and given access to services
+ Law Enforcement almost 100 arrests
Going BEYOND the Super Bowl:
Now that the Super Bowl is over, Our work is just beginning
+ Outreach will increase from weekly to daily
+ Over 40 volunteers added to outreach team
+ Law Enforcement and Service Provider network expanding
+ Resource Center Renovations to begin at the Fallout
Join us on 
Tuesday, March 6th at 7:00 PM
 to hear more about what happened during
Super Bowl
week and where we plan to go from here!
For the Super Bowl & Beyond!
A year ago we announced the vision to significantly increase our impact for victims of trafficking during the Super Bowl and 52 weeks a year. We are incredibly excited to announce that the Purple Light Project goal of $300,000 was reached!
This will allow us to significantly increase trafficking outreach and recovery resources immediately. Providing daily outreach, adding over 40 volunteers to our outreach team, increasing the network of law enforcement and service provider resources, beginning renovation plans for our resource center and expanding infrastructure were all kicked off Super Bowl week.
And now we are able to continue making a much greater impact on victims lives going BEYOND the Super Bowl.
Going Beyond the Super Bowl
Now that the Super Bowl is over…. Our increased outreach and recovery resources will continue – 52 weeks a year!
Many hours of preparation and training went into the months that led up to the Super Bowl. Over 300 people attended extensive volunteer training, adding over 40 individuals to our volunteer team, coordinating efforts with law enforcement and other service providers, prepping an emergency shelter and drop in with Hope Community Church (which provided valuable partnership and added 100 more volunteers) and hiring new staff were all included.
The Super Bowl brings a surge in sex trafficking and prostitution. And after the party is over, the local culture of trafficking and victimization goes forward at a significantly higher rate as a result.
We are excited to report that we are responding to this reality. The Super Bowl was our kick off of increased resources. Much of our preparation was not just thinking of the week of the Super Bowl but the needs that will continue.
With the success of the Purple Light Project we are now able to see the Purple Light Goals become a reality.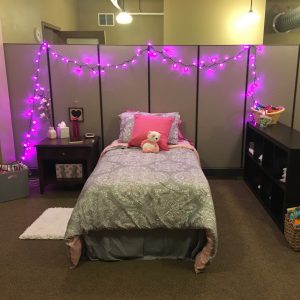 Purple Light Project Goals – 52 Weeks A Year
Outreach Team
Contacting victims daily (Over 3,000  text/conversations annually)
Assisting 2-5 victims to get out monthly
Statewide Victim Resource Network
Demand Outreach
Education and support for men caught buying sex
Law Enforcement Resource
Recovery Support Team connecting and partnering with 100 Police Departments statewide
Resource Center
Fallout Urban Art Center Renovations: Outreach center and victim support/hospitality
Recovery Beds
Increase shelter & Transitional Home beds by end of 2018.
This is a game changer in many ways. We are excited to put into action much of the vision and hope we have had for years.
Thank you to our partners who have invested volunteers hours, prayers and support. You are a significant part of reaching victims and we could not do this without you.