Renovations and rebooting
The Source Urban Art Center has started a renovation project that will expand our services and remain in compliance with the city of Minneapolis. We have been serving the neighborhoods of South Minneapolis since 2001. Our focus at the UAC is to serve meals, provide groceries and ministry to the marginalized.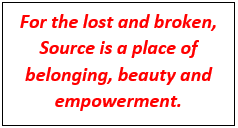 Our Phase 1 renovations the past few years have allowed our outreach and event impact to grow substantially. Now, we are looking to increase our monthly food and event capacities to continue to serve our at-risk and impoverished neighborhoods.
This growth has caught the attention of the city, which is requiring some facility upgrades to be able to accommodate these larger service numbers. The improvements include:
Completing commercial kitchen – HVAC venting
(2) ADA approved bathrooms on the ground floor level to serve our facility usage.
Access and doorway upgrades to make a safer entrance and exit to inner room usage.
The estimated cost for these improvements totals $80,000 and are spread across these work areas:
Commercial Kitchen: $18,000
Bathrooms: $30,000
Fire Doors: $5,000
Food Shelf Storage: $15,000
Electrical updates: $5,000
Exterior and Community Room: $7,000
To meet these costs, Source has organized a Phase 2 Capital Improvements Campaign tied to our fiscal end of year (8/31/2019). Through this campaign and this message, we are asking our past  and new supporters to make a specific donation to fund these improvements. Please consider giving to enable expanded services at our Urban Arts Center.
The improvements will position the Source to not only double our capacity to serve, but also to reduce the cost of services and provide more ministry flexibility. Thank you to all those who have supported and donated to our programs and past renovations.
To donate, go to sourcemn.org/donate/ or by mail to Source MN Inc., P.O. Box 8212, Minneapolis, MN 55408