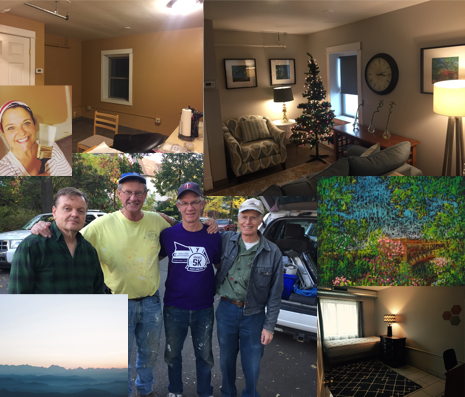 A Place to Call Home
The renovation of our Annex. 
Over the last couple of months there have been a team of volunteers renovating the Source Annex. From interior designers to painters and decorators, artists and photographers to members of the community lending their skills to installing all the blinds. It has been a big job, but the finished results are fantastic.
The Source Annex can host women coming out of the life and offers a program in which women can live safely in community and continue their work in healing and restoration. "This is a transitional home where women have already taken steps in their recovery towards a new life" says Maria, our Anti-Trafficking Director, "The renovation of the apartment is such a blessing and I have been so encouraged by the cozy, intentional and creative space that we will be able to invite women into."
Sara G was the interior designer on this project and offered her time and resources to the cause. During the process Sara mentioned how she loved to make a house a home and to set intention in the way that she sees and designs spaces. We are so thankful for the way she saw our apartment and brought a new life to it.
Sally, one of our residential volunteers, and Gary the "Hand Dee Mann" and his team joined forces and painted the apartment over a couple of days. "It was a fun project to be involved with" says Sally "I painted every edge and corner of the apartment and being new to the work here it was a great opportunity to pray and get a sense of the home that we will host new residents in".
The renovation didn't stop with the decorating and new furniture though. The project was blessed to receive art work from Scott Sample and his series of paintings called "The Prodigal Journey". There are three pieces from this series hanging in the communal space of the apartment and even by its title and intentionality we are praying that freedom is brought to the residents through his art. 
We also are thankful for the photography donated by Alex Ry which hangs in the hallway of the apartment. Alex's stunning landscape shots create a sense of hope and opportunity which our whole community at Source believes in at its core.
To all those who were part of the renovation at our Annex, THANK YOU. We believe that this fresh, bright, cozy and beautiful space will be a great blessing to our residents as they start their journey with us.
To find out more about volunteering with Source MN contact Natalie, our Volunteer Coordinator by emailing natalie [at] sourcemn [dot] org or calling the office on 612.822.5200.