Ukraine Youth Soccer Tour Jamborees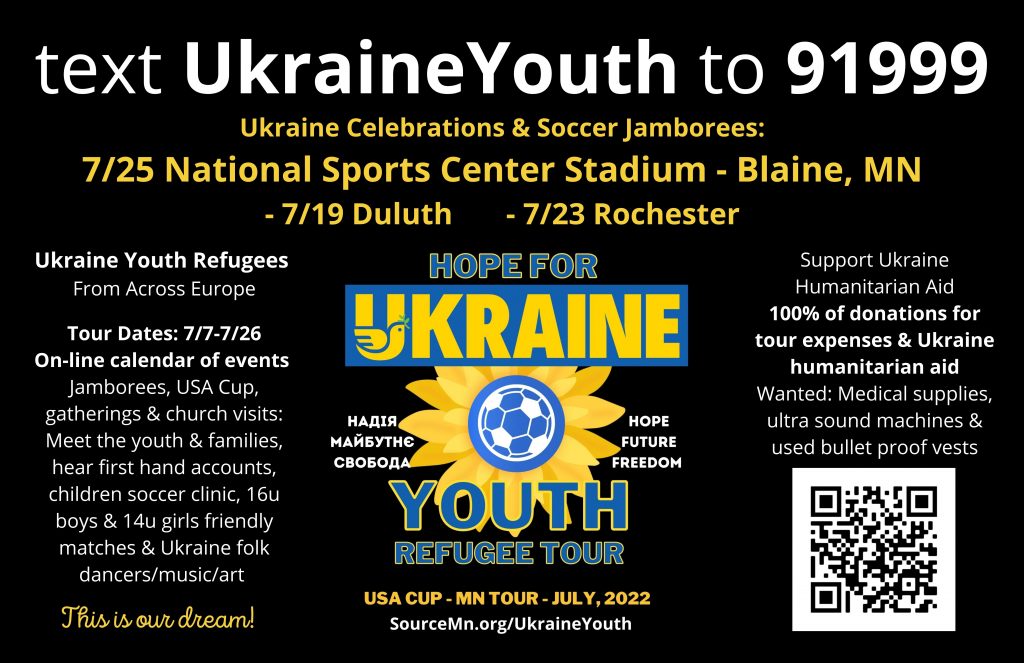 – 7/19 *Duluth (2pm-9pm), Stebner Fields – 4860 Maple Grove Rd, Hermantown, MN 55811
*optional $25 donation
– 7/24 Rochester (3pm-8pm), RCTC Stadium – Stadium View Pl SE, Rochester, MN 55904
– 7/25 Blaine (3pm-9pm), National Sports Center Stadium
Meet the youth & families, hear first hand accounts, children's soccer clinic, 16u boys & 14u girls friendly matches & Ukraine folk dancers/music/art.
7/25 Details: Jamboree Details
National Sports Center Stadium, Blaine on Monday, July 25, 2:30-8:00
1700 105th Ave NE, Blaine, MN 55449
Inside: NSC Welcome Center and Outside: in the NSC stadium.
Indoors: 3-7 Refugees share firsthand accounts of escaping the war and current living situations in 6 different countries.
Outdoors: kids soccer clinic, friendly matches, music-art-dancers and final presentation.
Outdoors: 2:30-8:30
– interactive art and music (Dancers at 6pm and 7:30)
– Soccer: kids clinic 2:30-3 registration, 3:15-4:15 clinic, 4:30-5:30 14u Girls Friendly Match, 5:45 16u Boys Friendly Match, 7-8:15 Final Presentation
2:30-3:15 kids clinic registration (register for kids clinic online or at stadium)
https://sourcemn.org/ukraineyouth-jamboree-kidsclinic/
3:15 to 4:15 p.m. – Children's Soccer Clinic
Ukrainian players and their coaches will give kids of all ages tips on improving their skills.
4:30 to 5:30 p.m. – Girls Friendly Scrimmage
The Ukraine Hope Girls 14U team and Dakota Clun girls will play against each other in a friendly scrimmage.
5:45 to 7:00 p.m – FC Minaj vs Rush
7:15 to 8:30 p.m. – Hope for Ukraine Presentation
The Ukrainian coaches and athletes will share personal stories of the challenges of fleeing war and living away from home as refugees, and share the need for funds for humanitarian and medical aid and personal protective equipment for Ukraine's citizen-soldiers.
To financially support the Hope for Ukraine Tour, text UkraineYouth to 91999 or visit:
https://sourcemn.org/ukraineyouth-for-ukraineaid/