Rebuilding for Future Generations
Bringing Hope to Those Struggling After 2020

Teen Leadership Program
Serving the Poor and Building Future Leaders
Many families and teens continue to struggle from the stresses of poverty, crime and violence in the wake of 2020. Source Teen internship program featured: Partnership with Mpls Step-Up Program, working along side staff, helping rebuild the city, connecting with local community leaders, first time jobs, being part of a diverse team and learning Biblical virtues.
"The highlight of my summer was coming here and learning how to help others," Teen Intern.
Interns were part of serving thousands of at-risk individuals and families this summer providing more than 200 tons of food through the Food-Shelf, neighborhood pop-ups & homeless meals.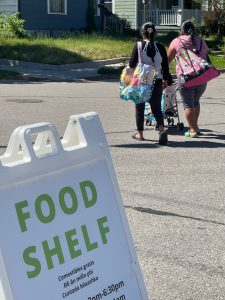 New faces, tears & 1st time commitments continue weekly
Every week we continue to see new people dealing with trauma, in need of basic physical needs and open to prayer and the message of God's love and forgiveness. 2022 Source will provide $3 Million of food relief: Serving 5,000 individuals monthly – more people than we did in 2020 & 2021 combined.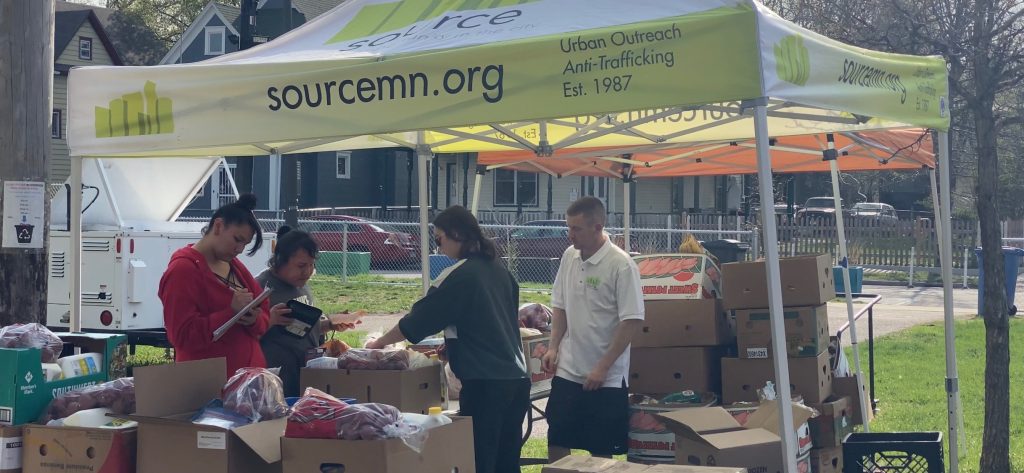 Poorest of the Poor Programs
Empowered by Partners, Pop-ups and Passenger Bus
Source has served the most needy communities for 25 years. Weekly Neighborhood Pop-Ups (food give aways hosted at local churches & community centers) allow us to provide food to more of those in need. Source provides the food and outreach training. This allows individuals be invited to services and into healthy communities that are available, supportive, encourage positive choices and learn more of God's love and forgiveness. One third of our food shelf recipients come on foot. Access to vehicles is a real obstacle for the poor. This is not common for food shelves as most only offer drive up. The Source shuttle bus and passenger van allow us to bring food to Pop-Ups as well as deliver food for those without cars.
" was incredible, it was the first time many of our people interacted with our neighbors in need." Local Church Host Pastor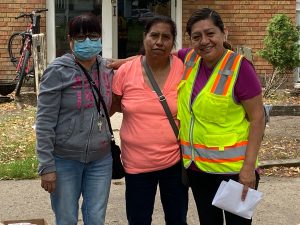 "My Foot Was Healed!"
Miracles in the food line – Food & Prayer Our Hope & Opportunity wholistic philosophy focuses on physical, mental and spiritual needs. The food shelf three questions are: 1) Do you understand how to get food? 2) how has your last year been? and 3) how can we pray for you? Each week these simple questions bring tears reflecting on unprocessed trauma of the the last 2 years and the current stresses and anxiety of poverty. A woman at the food shelf declared to our staff, "You healed my foot!" A week earlier she asked for prayer for her fractured foot after dropping a porcelain toilet on it.
"The next morning I woke up and my foot was healed."
Finding jobs, safe affordable housing, personal and family member health, safety for family and family members in other countries are common prayer requests and reports thanking us for prayers in prior weeks. In 2021 we saw over 300 first time commitments to follow christ and and this year we continue to see that number grow.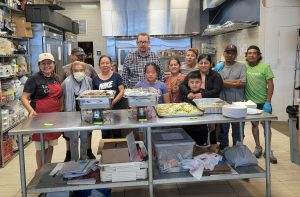 Cooking Class & Meals
for Homeless & Women's Drop-In Teaching food shelf recipients how to cook healthy meals from a food shelf and food stamps, working in a commercial kitchen, partnering with local restaurants, and providing meals for homeless outreach, women's drop-in and the weekly community meal are all products of the FACE Cooking Class. It also precedes one of the Bible study mentoring groups at the Fallout Urban Art Center.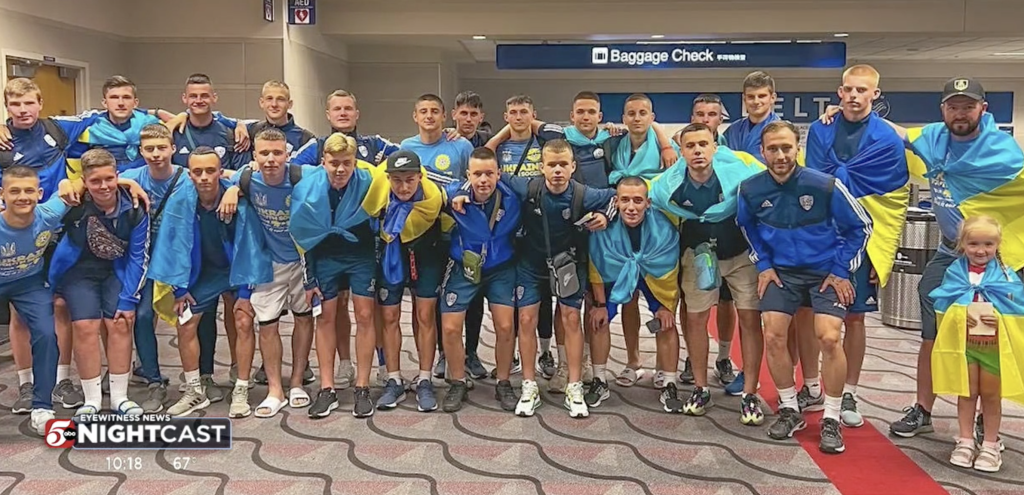 Ukraine Medical Aid Trip & 55 Ukraine Refugee MN Tour
In April Executive Director Peter Wohler came in contact with Pastor Rudolf and Family of Christ – Ukraine, a small church that provided over $5 Million of humanitarian and critical medical in the first 90 days of the war through distributions to 70 cities, evacuations from the east and 500,000 meals to orphans and refugees in the western Ukraine regions.
"It was an honor to bring 1,000 lbs of safety and medical aid, serve the many in need and pray with Family of Christ. It reminded me of when Source responded to the summer of 2020 Minneapolis unrest crisis."
Then with only a few weeks to prepare, Source hosted a 3-week MN tour of 55 refugees which included 35 youth, 2 youth soccer teams in the USA Cup and refugees residing in 6 countries. So many small miracles came together for the tour to happen including receiving 10 year visas when embassy was closed.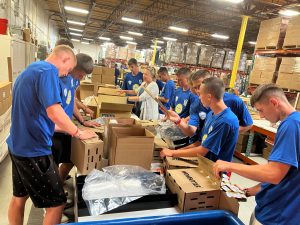 Bullet Proof Vest – Loafs & Fishes Miracle
We were able to bring medical supplies and 65 bulletproof vests to Ukraine. However we unpacked 113. After they were unpacked there were too many to fit back into the bags. There was no other explanation except God did a Loafs and Fishes miracle and multiplied the vests! Pray for the great need for humanitarian aid, medical supplies and safety equipment in Ukraine.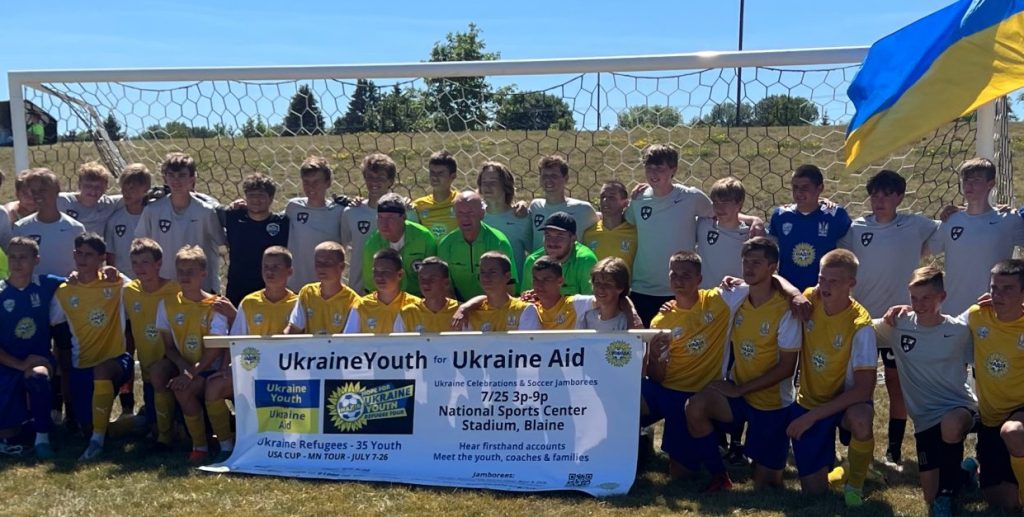 35 Refugee Youth
The focus of the tour was to bring awareness to the ongoing humanitarian crisis that increases weekly and give refugee youth a respite from the trauma of war. Personal stories included waking up to bombs in residential neighborhoods Feb 24th, the panic of trying to find bomb shelters, not knowing when it would be safe to leave, chaos and panic of fleeing west, living as a refugee in another country, relatives still in harms way, fathers fighting on front lines and homes/whole home towns being destroyed.
"When I came my house did not have roof and windows. Now bombs have destroyed my whole city. My grandparents are still there." 13 year old on the tour.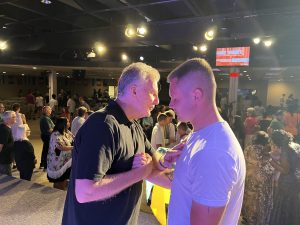 Highlights included the prayer gatherings, church visits as some refugees have never experienced being prayed for before or musical worship music. Mike Smith, Pastor at Redeeming Love and Chaplin for the MN congress is a father figure to many pastors. It was powerful to see him praying for one of the coaches, a 23 year old former orphan.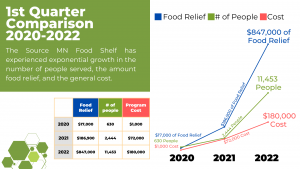 2022: Recovery Resources and Nurturing Growth
Source provided $3 Million of Food Relief in 2020-21 and saw spiritual fruit of over 300 making first time commitments to follow Christ. This year, we expanded our programs for the poorest of the poor, and focusing on 1) Recovery Resources that empower long term stability and 2) nurturing growth and spiritual formation. Alpha, small groups, goal setting and mentoring are all part of making a break from the past and a foundation for a future. In 2022, Source will reach more people & provide more food relief than 2020-21 combined. Read testimonies and full version of the articles below to get a more in-depth look into Source's Summer: SourceMn.org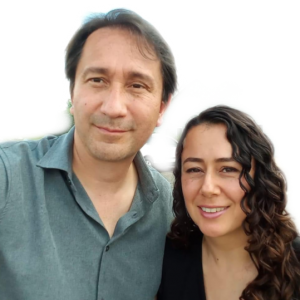 Latino Family Outreach – Lopez Family Arrive From Columbia
Our latino family connections are exploding. Each week new families that are new to America attend outreach events Fernando and Marta Lopez joined us in the summer of 2021 and helped host Alpha via Zoom. Now they have moved to Minneapolis to be a permanent part of the Source team.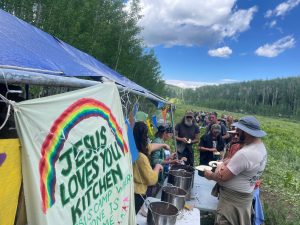 National Homeless Youth Outreach
Thousands of homeless youth, modern day vagabonds and counter culture peoples gather in the woods of Florida in the winter and a national forest in the summer. Source is part of the Jesus Loves You Kitchen that served 100's of meals while connecting and sharing God's love and forgiveness to many that would never come into a church or outreach center.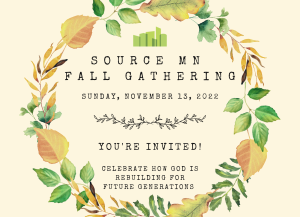 Fall Gathering – November 13
Rebuilding For Future Generations
Join us at our annual Fall benefit as we celebrate all God is doing through Source! Click HERE for more info and to register.