In 2020 we laid out a vision for 2021, 2022 and the next decade. We are excited to report how God has used Source to impact Minneapolis during our neighbors greatest time of need. Below is giving the vision at the end of 2020. Check out the 2022 update to see how we met these goals and more. Thank you for your support.
Lake Street '22 & MPLS Manna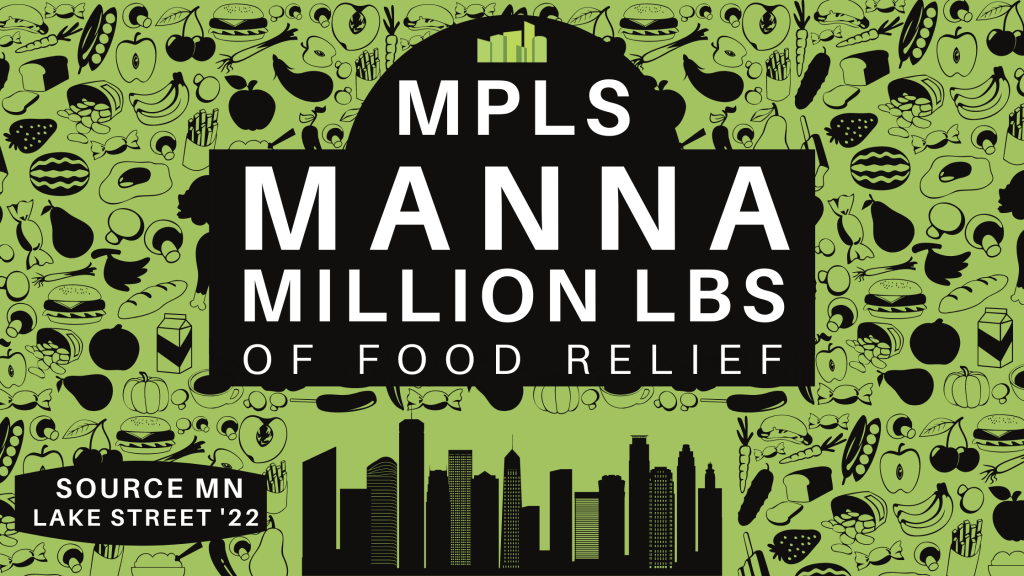 For 25 years, Source MN has served East Lake Street, supporting impoverished immigrant neighborhoods devastated by the 2020 Minneapolis unrest.
At the center of our efforts was food distribution at the Lake Street Kmart, where along with a team of volunteers, we distributed 200 tons of groceries. We also provided thousands of homeless meals from The Fallout community center during our spring and summer response to the poverty and hunger crisis caused by the Covid-19 pandemic and the Minneapolis unrest.
Moving into 2021, crime and poverty remain at record levels with little relief in sight. Darkness and victimization have increased and will continue if the city continues its natural downward spiral.
2021-2022 are critical to the rebuilding and restoring of the city. The next two years will be significant for decades to come. Source has been a light in the darkness since 1995 in South Minneapolis, working with homeless youth, trafficking victims, addicts and impoverished families.
Lake Street '22 is a response and commitment by Source MN to lead a holistic effort to rebuild and restore our Lake Street community. The plan ranges from focused prayer, to providing food and basic needs to families and individuals, to participating and investing in ministry and small business initiatives that will build a Kingdom foundation for this vital part of our city.
Lake Street '22 initiatives allow Source to continue and build upon our 2020 responses with strategic initiatives that include:
Food Distribution
Homeless Meals
Anti-Trafficking
Teen Leadership and Art Programs
Small Business Assistance
Latino Family Outreach
Dozens of congregations and 100's of partners allowed us to respond in 2020 to make a significant impact to the underserved. Now we are calling on our network to join us to set foundations in 2021 & 2022.
We cannot go forward without God's direction, prayer and our partners. The following overview provides an outline of needs and opportunities to serve.
MPLS
Manna Million
Source Mn – Lake Street '22
2021 we are beginning to give away 500-600 tons of food annually. This equals over $1.66 million in food relief (USDA values groceries at $1.66/lb)
Volunteers Opportunities:
The cornerstone of our Lake Street '22 initiatives is helping stabilize impoverished families and the homeless with food relief. Dozens of volunteers are needed as we host 2 distributions weekly from our community center and host a monthly outdoor give away at the historic Lake Street Kmart parking lot.
Read more about our Mpls Manna Million Lbs. of Food and the importance of food security to help reduce the impact of poverty, homelessness, mental health issues, domestic abuse and drug abuse.
Partners: How to be involved
The heart of Lake Street '22 relies on partnerships between churches and businesses that share the vision of rebuilding and restoring the Lake Street community over the next couple of years. The significance of stabilizing and building Kingdom foundations is critical and dependent on partners who want to invest and be there for the long haul.
We want partners who are willing to commit to join us in praying, volunteering (hands-on) and investing resources and time.
Prayer
Pray with us.
Join us for prayer times online or in-person that we will publicize throughout the year.
Initiate and communicate through current group's monthly prayer requests.
Volunteer (opportunities for individuals or groups)
Food Shelf: Come help give groceries to hundreds of families!
Service Days: Neighborhood clean-up, landscaping, building projects and maintenance
Also needed for Food Distributions: Spanish interpreters, prayer teams, worship bands, stage/sound crew
For more information, see sourcemn.org/get-involved
Invest Resources and Time
Consider a financial commitment or initiate special offerings each year.
Host a benefit to share how your church can or has been involved.
Partner with one of the Lake Street '22 initiatives listed that resonates with existing church initiatives or individuals in your congregation.
Drives: Collect food, bikes and winter socks/hats/gloves.

Food Drives: We encourage staples of Rice, Canned Tomatoes, Canned black beans

Note: Source is able to buy food for 75-90% off of grocery store for those that want to donate cash.

Bikes: All sizes of bikes for families. Source partners with Free Bikes 4 Kids who will make sure all bikes are safe before we give them away.

Volunteers needed on days we collect, tune up and give away bikes throughout the summer.

Winter Socks/Hats/Gloves

Collected in early fall for the winter season.

Meals: Make meals for 50-100 (at Source facilities or off-site)
Lake Street '22 financial goals
2021: $150,000
2022: $200,000
* finance goals are for new or increased gifts to help cover:
2020 un-budgeted crisis expenses. $70,000 un-budgeted funds were used to distribute 200 tons of food and more than 30,000 homeless meals.
2021/2022 program expenses
Support Lake Street '22
Make a donation today and a pledge for 2021 and 2022