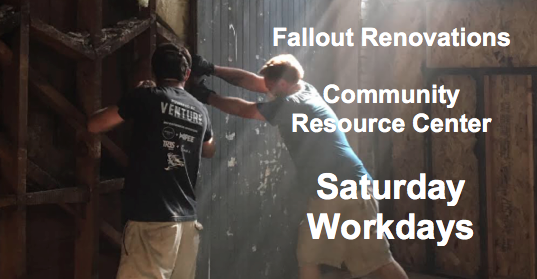 Fallout Renovations – Volunteers Needed!
Summer Saturday Workdays
Individuals OR Groups
As our community grows, our resource center has grown and with these higher volumes the city has determined that we are now required to:
+ add two ADA bathrooms
+ upgrade to a commercial kitchen
+ install fire doors.
This means over $70,000 in un-budgeted improvements!!
Volunteers Needed:
Service Projects

Skilled & Unskilled

Cement work
Framing
Plumbers
Electrical
HVAC Vent
Tile, flooring, finishing
Painting
Service Projects
Every Saturday in June, we have projects available for both skilled and unskilled volunteers.
Join us by email: volunteer@sourcemn.org
Weekly Outreach
– Anti-Trafficking Teams
– Community Meal / Food Shelf
– Neighborhood & Shelter Outreach
– Music/Art Events
Outreach Bus
We received a bus that we're trying to convert into a mobile drop-in center. It will allow us to more effectively make contact and gain trust as we distribute food, clothes and hygiene products.
Help us transform this bus into all that it can be!