2022 Ukraine Youth Soccer Tour
Ukrainian Youth Refugee Tour – 2022
The Miracle and Details of getting 55 Refugees (& 35 youth) in 30 days during the first months of the war.
Pastor Peter meets Pastor Rudy
After the Ukraine/Russia war began in Feb 2022 and watching the refugee crisis unfold, Pastor Peter Wohler felt an urgency to be involved. Peter was a part of a mission organization YWAM in Europe and Asia 30 years ago. He contacted a close friend, Vince Licari, in YWAM Europe investigating what were the current needs for Ukraine refugees and how he could be involved. He also threw out an idea of would it be possible to bring youth soccer teams to MN in July for the USA Cup Youth Soccer tournament.
Vince asked around and was told Rudolf Balazhinec ran a hub distributing aid throughout Ukraine. Vince was also told Rudolf had many connections in Ukraine and could connect us with soccer coaches. At the beginning of April, 2022 Peter, Vince and Rudolf met for the first time on a zoom call. During the conversation Vince and Peter laid out the simple (but complex) vision of bringing youth soccer teams to MN. They explained to Rudolf and asked, "we are looking for a 16u boys team and a 14u girls team, the coach would need to be able to speak English and ideal if the coach were a Christian as to tour would be supported by churches". Rudolf, or Pastor Rudy response was, "Yes, me!" Pastor Rudy went on to explain that he not only ran the Family of Christ distribution hub, he also was a Christian pastor and he has coached a 2006 boys competitive youth soccer team for several years.

Pastor Peter and Pastor Rudy had an instant bond. Peter has coached 2006 boys for many years. Peter also felt an affinity helping people with physical needs and overcoming personal trauma. He
has led Source Mn, a urban outreach in South Minneapolis located at the epicenter of the Minneapolis unrest in 2020 where the neighborhoods were destroyed. Source has been in these neighborhoods reaching out to at-risk youth, women in trafficking, the homeless and impoverished international families since 1995. Since 2020 Source has focused on helping individuals and families recover from the trauma of seeing their neighborhoods destroyed, livelihoods being turned upside down and has provided over $2.5 of food relief annually. One of Source Mn's board members commented, "if Pastor Rudy had dreadlocks he would be the Ukrainian Peter!"
Bullet Proof Vest Miracle
At the end of May, 2022 six weeks after meeting on zoom Pastor Peter took a humanitarian trip to Family of Christ in Uzhhorod that included 1,000 lbs of medical supplies and bullet proof vests. At the time fathers were fighting on the front lines with no body armor. 62 vests were packed. However 112 vests were unpacked. It was an incredible loaves and fishes miracle that shocked us all (not to mention being able to cross the border with them).
Pastor Rudy with Family of Christ Ukraine has helped orphanages and hospitals in the western region of Ukraine for years. When the war began many began contacting Pastor Rudy for help. He was able to get a warehouse and a fleet of trucks and vans. During the first 90 days of the war Family of Christ distributed millions of dollars of 1) critical aid to orphanages, military outposts and hospitals, 2) evacuated thousands including elderly and children, and 3) provide housing and food to tens of thousands displaced in their western region of Ukraine. Summer of 2023 they are still going strong with their continued efforts to support those in need and have are civilian victims of the war.
"I was amazed everyday with all the Family of Christ was doing. They had a couple hundred 'volunteers' or those that worked for peanuts as they were all motivated to bring critical aid to their countrymen in need and assist with war efforts," Pastor Peter reflected.
Girls Team
Two other miracles and divine appointments came only a few weeks before the tour. As Peter left Ukraine at the beginning of June there was still not a girls team and no one had visas.
Rudy did not have connections with any girls soccer programs. Unfortunately girls sports programs are not the same in Eastern Europe as they are in the West. This was also more complicated because many mothers and children were no long in Ukraine but left as refugees. Pastor Peter flew in and out of Budapest, Hungary. He was last in Budapest in 1993 as part of the first YWAM team establishing a YWAM Budapest base. His flight was leaving in the afternoon so he took a taxi to visit the base. He participated in some morning prayers with staff. After the morning prayers the room was being set up for the weekly Ukraine Refugee lunch. "I was on my way out as I had to catch a plane and was only there for the set up and when the women and daughters were seated. But I was able to meet Sean and Jessica for just a few minutes," reflects Peter. Sean and Jessica McAnuff had worked with and established relationships with the Refugee mothers and daughters since the war began. They not only became the connection point of the girls team, they also came coordinated the families to gather in Slovakia to get visas and were came to MN to be the girls team tour hosts. We could never had done this without them. We had 13-14 year old Ukraine girls (6 local girls joined them to make a team) that were currently displaced in 5 different countries.
Visa Miracle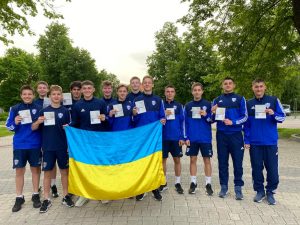 "This is a great idea, but you will never get Visa's in a time of war," was the comment we got from anyone who had international visa experience. The Ukraine embacy was closed and on their web site home page was a message in large letters, "We are NOT processing visas!" Schools in Latvia provided refuge for youth soccer clubs, so Pastor Rudy's boys team was in Latvia without their parents and only had a older sister as a "manager." So the task was to get visas for Ukraine youth that were in another country without their parents with the embassy stated they were not giving visas.
June 7, 30 days before the MN tour began, was the first group visa appointment we could get in Lativa for the boys. The Latvian embassy official doing the interview asked, "Why is Source sponsoring this? Their focus is on helping the homeless and addicts in Minneapolis." They asked her how she knew anything about Source Mn. "I lived on the same street in 2020 and saw all they did for the city and those in need," she said to their surprise. We were hoping for 90-day visas, but to our amazement she granted everyone 10 year visa's. The older sister "manager" came on the tour and was given a visa. She was able to return to Minneapolis and is now in college.
Two weeks later (and only 2 weeks before the tour) a second visa appointment happened in Slovakia. We still had the girls, girls guardians and boys coaches to get visas for who currently resided in 4 different countries and not Slovakia. Even though no one was currently a refugee or residing in Slovakia that was the only country we could get a visa appointment. Also Ukraine was not letting men with less than 3 children cross the border.
The tour had 55 Ukrainians, including 35 youth and they all received visas. One huge factor that no one thought could happen and we could not have made happen on our own without divine intervention.
The Tour: So Many Highlights
Source pulled out all the stops and called in favors from all our network. We got them into churches and events beyond our reach. We gave them our best. The 3 week tour was incredible. 55 Ukraine refugees includes 35 youth, 7 mothers, 2 older sibling guardians, and they were currently residing in 6 different countries. Some had fathers on the front lines or military advisers. Most families were split up in different countries and some had relatives and grand parents in cities still in harms way that were unable to evacuate. Some of their homes and cities were completely destroyed. Stories of trauma during the first days of the war of being in civilian tracking jams on highways while Russian airplane bombed cars, or in bomb shelters with no food and water and not knowing if it would be safe to leave.
The tour included lots of connecting time amongst the many activities. USA Cup, awareness and prayer events, church visits, youth and coaches sharing their story, staying in host homes, making authentic Ukraine food, 3 days in Duluth, State Park river rafting, beach days, Valley Fair, Twins and Loons games we all included. We also hosted a trauma session for the leaders to not only process their own trauma but also tools on how they can minister to others back in Ukraine.
Teens Interacting
The 10 Ukraine girls who never played organized soccer had 6 local girls make up their team (they did win a game at the USA Cup). Pastor Peter Se Club team, which included his sons, were the host team for the boys. The many events off the soccer field were incredibly special too see the teens interact with each other and just be teens. The girls doing each other hair with blue and yellow ribbons before the USA Cup opening ceremonies. The boys trading pins and sharing food.
So many more highlights,
Host home hospitality that welcomed individuals into their families
Prayer and Awareness events at local churches (Wooddale, Grace Eden Prairie, Redeeming Love, Calvary Rosedale, Inver Heights Vineyard, Lavinia Burnsville)
Refugee service projects at Source Food Shelf and You Matter packing medical supplies to take back to Ukraine
Ukraine Mural Wall in South Mpls
Soccer clinics, Friendly matches and picnics after were local teens and youth interacted with Ukraine youth (one local 16 year old boy began to tear up when a Ukraine player told him that after the tour they are returning to Ukraine)
USA Cup Ukraine Trading Pins (Hope, Future, Freedom, Jesus)
Mike Smith, the Chaplin for the MN congress, praying a blessing over one of the coaches that was raised an orphan
Player being overwhelmed and excited afterwards as he told teammates how 80 people came to the front of the church to pray for them
First time experience of musical worship in a church
Practicing with the Loons soccer team
Toast of the Town at USA Cup opening ceremonies
200 volunteers and host homes (so much work)
10 year visas for everyone
"Why are you doing this?"
Was a question we would hear daily from different individuals including the youth. They were overwhelmed why complete strangers would do this and go to such expense. It showed such a gratitude as well as much of the trauma many of the refugees were processing from the previous 120 days when their world was turned upside down.
Results over the last year:
Creating awareness to the incredible work Family of Christ continues to do, mission trips to Ukraine with Individuals and local churches that were introduced to Family of Christ and Pastor Rudy, the older sister manager living in Mpls area since fall 2022 going to college, my own (Peter) kids and friends teenagers having life long memories hosting and making friends.
Thank you
to all the volunteers and supporters that made this happen in such a short amount of time. Also want to give credit to Christ and the Holy Spirit that did so many major and small miracles to make this happen. This was truly something God was doing and allowed us to join him.
Please contact info [at] sourcemn [dot] org if you desire any information or ways to support the Urkaine efforts.