Lake Street Prayer Wall Statement
#LakeStreetPrayerWall
Statement addressing "Love Your Enemy" Mural (Mpls Police Chief Arradondo and protester hugging), Black Voices & Artists, & Apology
Our heart and desire was to see the activities in the Kmart parking lot, especially the #LakeStreetPrayerWall murals, be a conduit of helping our community come together, seek justice for George Floyd, process and mourn the trauma, restore the neighborhood, bring peace, and see real change as the neighborhood rebuilds for a better future. Our hope was to participate with our community and together build bridges, not walls nor controversy.
The trauma from George Floyd's murder and the Minneapolis unrest, along with the quick time table and simply not knowing if the murals would be kept up after KMart's closing (June 26th), the size of the project, working with multiple artists we didn't know, our own lack of experience and our own limited perspective all lent to some controversy and offense taken by individuals. We would like to apologize as well as invite civil, respectful dialogue and conversation that can hopefully build bridges.
#creativesaftercurfew, the first crew to attempt to do a mural left without painting because of offensive racial interactions with the Kmart staff. We were not present and feel terrible that this happened. To their credit, #creativesaftercurfew, still came to the Fallout Urban Art Center and did an incredible mural. Some this was documented in the StarTribune article "George Floyd murals, graffiti on boarded-up Twin Cities businesses spread a message of pain ⁠— and hope."
We apologize for any miscommunication or conduct on our part that may have added to the strife, especially if we were being insensitive to artists of color.
"Love Your Enemies" Mural
One of the murals, entitled "Love Your Enemies," showing the Minneapolis Police Chief Arradondo hugging a protester (both individuals of color) had panels ripped off, stolen and defaced possibly because people interpreted it as a political statement, which it was not meant to be. After we already took it down, activist also physically attacked the organizer of the murals. We decided to take down the remaining panels because the controversy was taking away from the overall purpose of bringing the community together.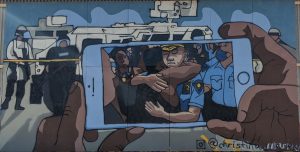 Our apologies to anyone who took offense. We realize that this may have been perceived as being political or insensitive.
Black Voices and Artists in our Community
The conversation around local black artists not being given the appropriate space to use their voice and art to respond to the recent tragedies in our city due to the rushed response by non-local and non-black artists, we support and see as completely legitimate. Our heart was to include all people to express their voice in this tragedy, but we failed to let the black community lead. StarTribune did a piece that focuses on this and features Melody Strong, an MCAD alumni who organized 1,000 sq ft of the wall as a community mural with 80-100 youth from the community. The piece also shows some of the #LakeStreetPrayerWall https://youtu.be/hZcyRhADvzU
To be honest, our perspective for this project was focused on representing the E Lake Street communities as a whole and not primarily the black community. We reached out to the network of artists that the Fallout Arts Initiative (FAI) has developed over the 25 years we've been in South Minneapolis, but we recognized that is limited. Over 75% of wall space was created by artists of color and a third of the entire wall was done by black artists. Artists were given a general commission and then given their own artistic license to create. Our hope was that we were empowering individuals to let their art be seen while participating in the healing of a community.
We could have done much more to engage with black artists. We are open to that criticism and want to invite continued civil and respectful conversation. We continue to welcome and emphasize our desire for respectful dialogue especially since there has already been a physical attack done on one of our staff (which was not done by a person of color) and because of the various narratives being created and spread without any conversation with us.
We apologize to any artists that have worked with us for the ways we have directly or indirectly caused offense and/or distress. We hope we have not severed any relationships and we deeply desire to have a chance to restore trust.
Our prayer is that South Minneapolis would be a beautiful place of creativity and diversity where all are treated with respect and honor – given equal voices and expressions – a place where we can dance and cry together. We hope that we can be a part of that vision and not an obstacle.