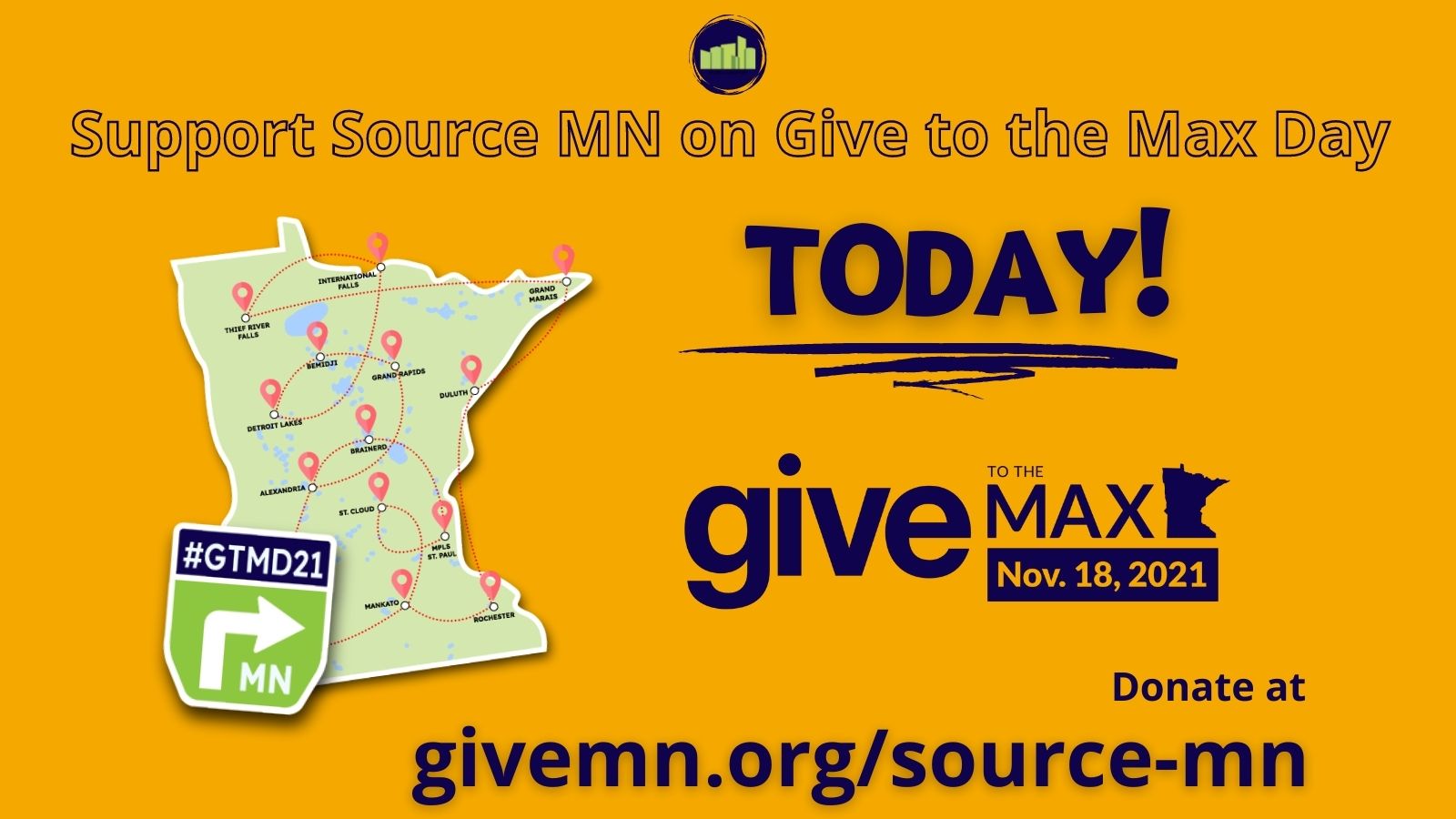 Give to the Max Day
TODAY is Give to the Max Day! It's Minnesota's beloved giving holiday! You can double your impact by donating to Source MN, because of a matching grant from some very generous supporters. Please consider donating to Source MN as you participate in #GTMD21. Let's make November 18, 2021 a special day as we remember the homeless and impoverished families of South Minneapolis.
After 2020, don't forget the homeless and families in poverty that are struggling
Lake St '22: Restoring and Rebuilding Mpls following 2020
Since 1995, Source has been part of the E Lake Street, the epicenter of the 2020 Minneapolis unrest. Source Food Shelf provided over 200 tons of food in the summer of 2020 and 10,000 homeless and impoverished meal monthly. Source continued in the fall of 2020 to give away 40-60 tons of food. Mpls Manna provides over 1 million lbs of food (Aprox. $2 million in food relief) annually. This is an increase of 25-fold from the 40,000 lbs of food 12 months before the Mpls unrest to 1 million lbs the 12 months after the unrest.
As we enter 2022 the need continues to be significant. These neighborhoods are struggling to rebuild after 2020, crime and violence remain at record highs while homelessness, addictions and victimization have all significantly increased. The years of rebuilding and restoring Minneapolis after 2020 will be significant for decades to come. Stabilizing families and providing basic physical needs are the foundations of community recovery.
Now that Covid Relief Programs are ending, we have need $400,000 in 2022 to continue these needed programs. Source increased 25-fold and provided $2 million of food relief for a cost of under $400,000 (20%). We were able to do this in such a timely manner because of the assistance of Covid Relief Programs. Most of these programs have ended and we desire to continue and expand. We have seen significant growth each quarter of 2021. Currently we have over 1,000 recipients monthly representing 3,500 – 4,000 family members. Approximately 1/3 of our recipients are pedestrians, as they have no vehicle or the only car in the family is being used by the bread winner. These represent the poorest of the poor.
Remember Mpls 2021 YE Campaigns goal is $250,000. This will allow Source to continue to provide $2 million of food relief and expand to reach more of the homeless and families in poverty. We also have a matching grant for the first $40,000.
Lake Street '22 represents Source's initiatives to restore and Rebuild Mpls in the years following 2020. It is a response and commitment by Source MN to lead a holistic effort to rebuild and restore our E Lake Street community. The plan ranges from focused prayer, to providing food and basic needs to families and individuals, to participating and investing in outreach and small business initiatives that will build a Kingdom foundation for this vital part of our city.
Lake Street '22 initiatives allow Source to continue and build upon our 2020 responses with strategic initiatives that include:
Food Distribution
Homeless Meals
Anti-Trafficking
Teen Leadership and Art Programs
Small Business Assistance
Latino Family Outreach
Dozens of congregations and 100's of partners allowed us to respond in 2020 to make a significant impact to the underserved. Now we are calling on our network to join us to set foundations in 2021 & 2022.