Informational Meetings for The Purple Light Project will be held throughout the summer. Check dates and RSVP Here.
Outreach Training events will be held in July. Check dates and RSVP Here.
In February the Super bowl is coming to Minneapolis. It's going to be one big party and a huge boost to many businesses. Unfortunately, it won't be fun for everyone and business won't be the only thing that increases.
The Super Bowl will bring a surge in sex trafficking and prostitution. And after the party is over, the local culture of trafficking and victimization will go forward at a significantly higher rate as a result.
Minnesota is already considered a national hotspot for Sex trafficking and prostitution. The average age of entry is under 15 with homeless youth often targeted within 48 hours. Last year every county in MN saw trafficking charges.
Most of these women and girls want to get out. They want a better life but are faced with incredible obstacles. Opportunities and recovery resources remain a desperate need. They deserve a chance to regain their autonomy and their dignity.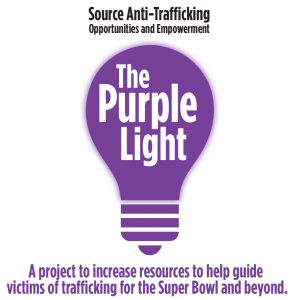 The Purple Light  is a beacon of hope to women trafficked here in Minnesota. It's a sign that there are caring people who can help and this community isn't shutting their eyes to women in need – they're creating opportunities to empower women and protect young girls.
The objective of The Purple Light campaign is to increase opportunities and recovery resources for trafficking victims. This includes Outreach Advocates, Recovery Center, Resources, Transitional Home Beds, Awareness and a Network of local church advocates.