Jesus Kitchen Mpls Gathering and National Rainbow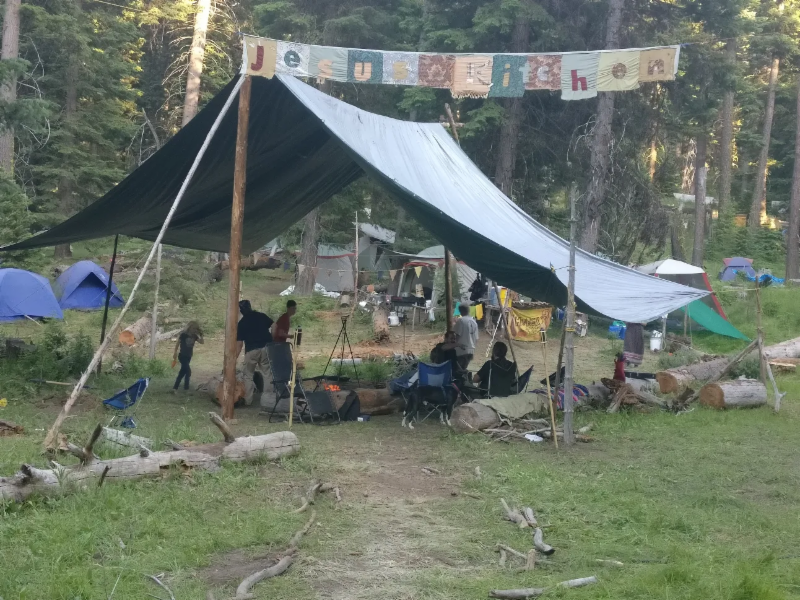 Jesus Kitchen – Ocala 2019
Every summer in a National Forest, up to 30,000 come together for a Rainbow Gathering. Since the early 70's, old hippies, homeless youth, travelers, modern-day vagabonds, and misfits come together for several weeks in search of community – "Welcome Home."
The Jesus Kitchen has been a presence in this community for 20 years and built a positive reputation with a culture that is typically anti-religion. Hundreds of meals, prayer and worship out in the open (morning, midday and evening), and a prayer tent happen daily. Many daily spiritually significant conversations and individual prayer have resulted in first time commitments to follow Christ, baptisms in the woods, and young people coming back to live in transitional homes have all been fruits of this organization.
Source staff, Ben and Teresa Pothier (and 2 children) travel across the country each year to co-lead the Jesus Kitchen. National Rainbow Gatherings are backwoods camping. A full backwoods kitchen and supplies for 2 weeks is typically set up 1-2 miles from any roads. Bringing in 50 gallons of water daily, making cooking tables out of trees, digging latrines, setting up a campsite for dozens to eat at a time, and keeping food fresh, are just a small part of the work that needs to be done. Not to mention being outside in the elements.
Jesus Kitchen Dates:
6/15 2pm-4pm: Jesus Kitchen / Rainbow Info Meeting 1

Note this is part of the 6/14-15 Homeless Youth Seminar

6/18-6/20 Jesus Kitchen prep times TBA:

afternoon, Thurs. (afternoon/evening), and Fri afternoon

6/19 3pm Jesus Kitchen Info / Training 3
6/19 Fallout Meal 5:30pm (4pm prep) – Jesus Kitchen outreach
6/21 6:30pm Jesus kitchen prayer gathering with the Fire Starters
6/23 10am Jesus kitchen sendoff service at Merge
6/24-7/6 Jesus Kitchen at the Rainbow (Near Lake Superior)
The Rainbow Nationals will be hosted in MN/WI for the first time ever. Over 30,000 will be in attendance mid-June to July 4th. The Jesus Kitchen will need lots of prayer, volunteers and resources. Contact us for Volunteer opportunities, providing food and prayer gatherings later this spring and summer.
Jesus Kitchen: We need a team prepared for labor-intensive backwoods camping (Note: Some are staying at the Holding Camp and doing day trips). Each day we will be making 100's of meals, gathering firewood, hauling supplies in, and hauling in 50 gallons of water. Our team will participate in prayer and worship times, spiritually significant conversations, offering prayer, and hosting a prayer tent.
Kitchen Set Up (Marines: first to land). The first two days are the most labor as the kitchen, latrine, campsite, tables (made from scratch), shade tarps, prayer tent, and lots of supplies need to be carried in 1-2 miles.
Tear Down: The last day we also need extra help. The main crew will be exhausted from the two weeks of ministry. The kitchen supplies need to be hauled out, campsite restored, and latrines filled in.
Holding Camp: The holding camp, we hope, will be less than 2 hours from the Rainbow Gathering. Some people will be staying at the holding camp, possibly preparing some food there to bring in, as well as having prayer and worship. The holding camp will have people camping.
– Warning: The rainbow gathering is highly spiritual and alternatively counter culture. If you have not been around counter culture people or the drug culture, it can be intense. We have families with young kids that are part of the Jesus Kitchen. Many children are always a part of the Rainbow Gathering. We feel physically safe at the Jesus Kitchen and ask people to stay together and not wander off alone. Drugs, spiritual activities, and, on occasion, nakedness, are visible. Spiritual warfare can be intense. Anyone coming to help with the Jesus Kitchen, we ask would respect and follow the discretion of Jesus Kitchen leaders. Prayer, worship, checking in, and praying for one another several times a day is a common and needed practice.
– Be Prepared: You will be backwoods camping and need to come prepared physically, have your own supplies to camp, like your own tent, and be prepared for bad weather. Also, you will need your own items like plates, mugs, water bottle, and silverware. No paper products are provided or desired in the woods.