Recovery Resource Fiscal Year End 2023 Campaign

Read about Recovery Resource Testimonies and Videos
Recovery Resource '23-'24 Program Budget Below
Physical Need Programs: Food Shelf – Neighborhood Pop-Ups ($2.5 Million Food Relief Annually), Shuttle Bus (25% recipients do not have vehicles), Homeless Meals, Homeless Youth Outreach, Community Meals, and Hygiene Products & Clothes Closet.
Source Recovery Resource Programs: Case Workers (Victim Resource Coordinators), Women's Drop-In, Residential Supportive Housing, Alpha in 3 languages & ESL, Life Skills & Teen Internships, Latino Family Outreach, Healthy Meal Class, Spiritual Formation Mentors (400 1st time commitments in '21-'22).

Recovery Resource Programs Allow Source To
Empower vs Enable
Empowering the at-risk and unreached to make a break from the past and build foundations for a future of stable, healthy independent living is the mission of Source. Providing physical needs can actually do harm if they only enable. However, when physical needs are part of a practical "Whole-istic" philosophy they can be a bridge by aiding in safety and stability to make positive choices.
1) Physical Needs for Today: Allow a) Stability and safety, b) Trust to be built with caring staff.
2) Voice Hope for Future: Marginalized individuals need to hear a) Their creator has a plan for them that includes a future as well as the love and forgiveness of Christ, and b) God has helped others overcome similar circumstances. Without vision people perish.
3) Recovery Resources for Tomorrow: The critical resources and community that assist in navigating an attainable path to lifelong stability: a) Treatment & training – life skills and education, b) Community of encouragement, support and spiritual formation.
We make contact and gain trust by offering food and prayer. Then we remain accessible and available for those that want to pursue more about faith or about how they can get out and stay out of a bad situation. Giving opportunity (physical needs and recovery resources) and hope (voicing God's love and forgiveness) are the essentials to "Whole-istic Empowerment."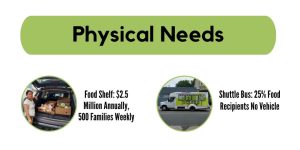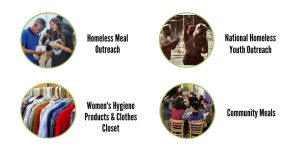 Recovery Resource FYE '23 Campaign: 8/31/23
$100,000 (50% of the 2023-24 RR Program Budget)
The 2023-24 budget for Source Recovery Resources is $200,000. Our current FYE Goal is raise 50% of that. Recovery Resources allow us to go beyond just helping keep people safe today and provide for the moment. Recover Resources are the practical tools and support that empowers individuals to build foundations for life long lasting change. Case Workers and programs with the knowledge and expertise of give vision and nurture positive choices and the next steps of how to, "get out and stay out." Pastoral counseling offering prayer and connecting to congregations that support and encourage positive choices and spiritual formation. Victim Resource Coordinators: Assisting individuals with accessing the many public and private treatment programs, education, job training, employment and housing resources.
Recovery Resource Testimonies:
Providing supportive housing to single mom's and young women overcoming abuse while in out-patient treatment and job training, Also housing for single Ukrainian refugee woman.
"This is the only place i can shower and do my laundry," Homeless mom at Women's Drop-In
"You can do this and when you get out we can help you find a place to stay, get a job and find a church that will support you," staff staying connected with former homeless addict while they are in treatment
Helping homeless women access safe sober shelters
"I never knew people like me could live a different life." Homeless woman in prostitution.
"ESL helped me get a job," "You are my family," "I do not know what i would do without you." "Thank you for teaching me to cook – new food." immigrants who are new to the USA 2 weeks to 1 year.
Alpha in 3 languages: Introduction to understanding faith and how congregations can be a positive support
"Please teach me the Bible, I don't understand, "Thank you for your prayers for a job, I now have a job." "I was very alone, now I have people."
Through case-workers, staff and programs that give practical tools, support and encouragement, vision of a positive future and spiritual formation Recovery Resources empower foundations for life-long differences.
Please pray about donating to the FYE '23 Recovery Resource Campaign. Make life-long differences in the at-risk and unreached.
Thank you for your support. Source could not offer Recovery Resources without our faithful partners.
If you desire your gift to go to any specific program below please indicate int he description window on the online giving window.
*2023-24 Recovery Resources Annual Budget
Case-Workers & Women's Drop-In: *$75,000
– $20,000 Three Months
– $6,250 One Month
– $1,500 One Week
– $250 5 Hygiene Bags and Gift Cards
– $50 1 Hygiene Bag and Gift Card
Healthy Cooking & Homeless Meals: *$20,000
– $5,000 3 months
– $2,000 one month
– $500 one week
Teen Internship: *$40,000
– $2,000 Sponsor one summer teen intern
– $500 Sponsor 2 weeks
Latino Family Outreach – ESL – Alpha – Spiritual Formation Mentors: *$40,000
– $20,000 6 months
– $5,000 Latino Church Plant Sponsor
Supportive & Transitional Homes: *$25,000
– $12,500 6 months
– $6,250 3 months
– $900 first month housing and food for an individual