2018 Super Bowl & Beyond
Our main goal and measure of success was to see a significant rise in Anti-Trafficking outreach. We are excited to report that we are meeting that goal. We have been able increase our Anti-Trafficking Outreach from once a week to daily (5 times a week). We are seeing the number of connections grow each month and are currently coming in direct contact with more than 70 women monthly. This is a result of our own outreach teams increase as well as growth in the network of referrals from law enforcement and service providers.
    Source was selected as the official Super Bowl Victim Resource Coordinator (VRC). This is unprecedented for a local faith based organization to have this position of influence. It was met with political objections as the Super Bowl Committee said it needed someone of more national recognition and was said, "we do not trust them because they are a Christian Organization." The Minneapolis Police Department responded by saying, "We have developed a relationship with Source over the past years and they are the most reliable, consistent and effective service providers we know. We trust them and they are who we are using as our Victim Resource Coordinators."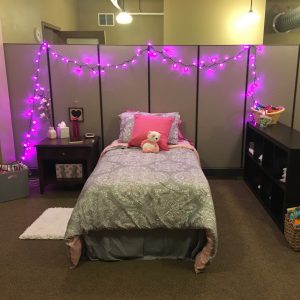 Being selected as the Super Bowl VRC gave us a platform of credibility that included the FBI, Minneapolis and St. Paul police departments, county and local police across the state/region, as well as other local service providers. Being the official Super Bowl VRC the law enforcement and service providers looked to us and the emergency shelter we hosted as the initial referral for victims.
    During the Super Bowl week the emergency shelter and drop-in allowed us to give a temporary home as we built trust, accessed the individual and made them aware of potential resources (locally and in the region). It also allowed a connection for referrals from law enforcement and other service providers. We partnered with Hope Community Church and hosted the shelter for the week of the Super Bowl. It was a great location as Hope Community Church is just a block away from the US Bank Stadium.
Resource Center Renovations: The Fallout Urban Art Center was acquired in 2001. It is a strategic location just south of downtown Minneapolis amongst the urban diversity of shelters, internationals and the arts. It is located between East Franklin Ave and East Lake Street. These historically and remain to be significant areas for at-risk young people along with trafficking victims. This last year have put a face-lift on the 130-year-old building. New storefront windows, community room, kitchen, lighting, food shelf storage, and community meal hosting have all been included in the renovations. Expanded outreach offices and security cameras have also been added to the Annex building located a block from the Fallout. These buildings are also an outpost for outreach, trainings, drop-in center and transitional residential housing are also hosted
    Our strategic plan to sustain the increase programs was to see our network of support grow. Partnerships with individuals, businesses, and churches have grown significantly. We have had over 300 from representing dozens of churches attend trainings and seminars. This includes over 40 that participated in 8 hours of intense outreach training to prepare them to be directly involved with victims at the emergency shelter and outreach teams. 4,000 volunteer hours, and 15,000 lbs. of food serving over 300 individuals monthly were also apart of Source in 2018. Thanksgiving Food Shelf saw a 85% increase. Mentoring, advocate and life-skill groups continue to see encouraging results as well.
We are so grateful for your prayers and support. Please consider donating online and be part of Keeping the Momentum Going!